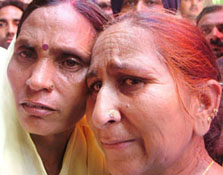 Image: Sukhpreet Kaur (l) and Sarabjit's sister, Dalbir Kaur (r)

Sarabjit Singh's case is probably the clearest case of government apathy and neglect. Why does the government always wake up at the last minute? And even when it does, it lacks the courage to take a strong stand.

Unlike the wife of Sarabjit Singh, whose statement below is probably the greatest display of patriotism that one has seen. Times of India has this report:


I am against exchange of terrorists: Sarabjit's wife




20 Mar 2008, 1211 hrs IST,TNN



NEW DELHI:

Sarabjit Singh's wife Sukhpreet Kaur has opposed the idea of India freeing a hardcore terrorist in exchange of her husband's release.



Talking to TOI , she said:

"My country must not release any terrorist in return of my husband."

She was reacting to the speculation about the trading of Sarabjit with Afzal Guru, the mastermind behind Parliament attack. However, she said Pakistani nationals who had been languishing in Indian jails for mild offences could be released to secure her husband's freedom.

Denying that Sarabjit was a terrorist, she said that false cases had been registered against him.

(read more)
Its a pity our government has neglected these heroes. But what else can be expected from them.